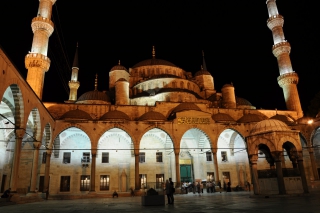 88. Day of travel

4.523 km
I was very tired as I arrived in Istanbul, but happy to made this trip from Berlin to Istanbul. In the first few days I did no sightseeing, just hanging around, sleeping and updating my blog. Also it was very hot here for me in the beginning, so I was to lazy to walk around. After the lazy days I went to Galata and Taksim. These are very famous places here in Istanbul. The pedestrian zone is all the time full of people. Through this mass of people a small tram line is going there, I like this old tram very much.
As I taken the metro, I was very suprised of the modern system, it reminds to the subway of London. Here you have also to buy a coin or an magnet card to pass the barrier. The metro is new, full climate and clean. There is also a short connection where the metro drives full automatically, without an driver, this line has only two station from Kabatas to Taksim.
In our hostel I met some very nice and intresting people, with Ashley (from UK), Stephane (from France), Guillaume and me we were an kick-ass group and had a lot of fun together. Ashley arrives from Britain (near to London) to Istanbul in only 30 days by bike, he made around 150 km per day and more, a real power machine. He will go to Australia and want to be back in UK this December (take a look at his Blog). Unfortunately he didn't get the visa for Iran, so he will take a plane from Istanbul to Pakistan, then cycling to India. Stephane, also a nice guy, fit very good to Guillaume, when they starting an discussion, it was always funny. Also I get to know an british family, they travelling with an tandem bike and a little child. They want to go to India as well.
On 19 th July we went to Kadikoy a district of the asian part. It was my first time that I enter another continent. In Kadikoy I went to bike shop to pickup my new tires. It was not easy to get these tires, at first I tryed to get them in Belgrad and Sofia, but no way. Then I contact Continental for sponsorship, but they aren't interested. Then I contact an company that owned several bike shops in Turkey. They send me the tires that I needed from Ankara to Istanbul. I changed them in the shop, also the sprocket from my Rohloff gear hub (I did the oil change at the hostel), the staff was very friendly and assisted me, they also centered my wheels. The service was free, I've got an discount of the tires, I have tacken a third one as an replacement and payed 99 € for all and got two Continental inner tubes as a gift.
At saturday Guillaume, Ashley and me taken the ferry to Princess Island. Stephane left Istanbul the day before, he have to go back to work. On the ferry we had our bikes with us. At first we visited Büyükada the biggest one where we cycled and then to Kınalıada the smallest one where went to swim. On every Island there is no car traffic, you can rent bikes or take an horse buggy. A lot of visitors coming here to take a breakout from the big city.
We want to leave Istanbul on Wednesday the 25 July. I will collect my Visa for Iran at the consulat and then we go the way to Trabzon. For me Istanbul is a city that you have to see. But now I'm glad to continue the journey.
This is my first article in English is dedicated to Ashley from the UK.
Update 24.07.
New pictures and text added